Winter is upon us! That's not necessarily a bad thing! Here in Tucson there is fun to be had year round! These are some of the best winter activities in Tucson. You can enjoy winter in Tucson as much, if not more, than summer in Tucson. 
When it comes to January in Tucson you might be at a loss for what to do. The good news is that Tucosn living is never boring. These are some awesome activities that are great for the whole family. Hopefully these ideas will help you make the most of your winter in Tucson. 
There is fun to be had in unexpected places and if you look closely you might just learn some amazing things along the way as well!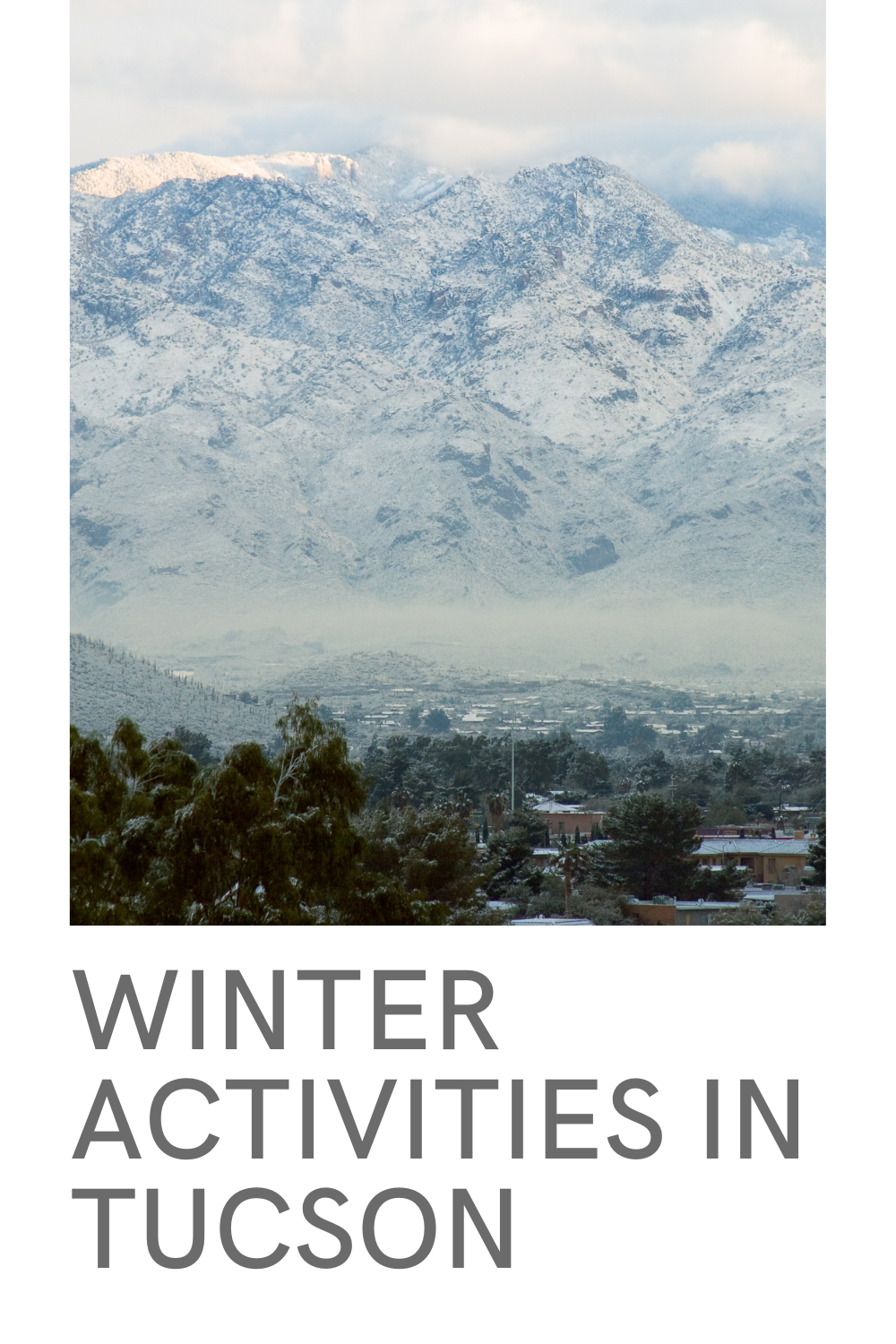 Top Ten Winter Activities in Tucson
There is so much to do in Tucson in the Winter. January in Tucson isn't some gloomy time period to avoid. It's actually a great time to get outdoors. It is the perfect weather to have all those outdoor adventures you've been dreaming about. Hike the mountains, visit a museum, go to the zoo, check out the botanical gardens, take a picnic to the national park, and more! Check out our favorites below: 
Hiking in Tucson is amazing and the views can't be beat but during the summer months it can be risky with the heat. Now it's a great time to go hiking and you can take the whole family! It's much safer for pups to hike with you in the cooler months too! 
There are a bunch of really great parks in the Tucson area! The winter months are a great time to visit. They're slower for tourists and that means more space for you to enjoy! Parks in Tucson manned by Tucson Parks and Rec are a great perk of living in this area. Their website linked above is a great resource for choosing the activities and spots that will suit your needs. If you have kids who need to run free and burn off some energy this winter in Tucson you'll love visiting some of these parks. 
Explore Some New Places & Museums
If you are looking for some great new places to explore or some museums to check out you won't want to miss out on this post. It's full of adventures that you can have right here in Tucson. You don't have to travel far and wide to find the best Winter fun in Tucson! 
See a show at The Gaslight Theatre!
The Gaslight Theatre is doing outdoor shows…that means you can keep up your social distancing but also get out and do something fun and exciting. 
Zoo Lights at the Reid Park Zoo!
Did you know that the Reid Park Zoo does fun winter light displays?! It's something you won't want to miss out on if you enjoy seeing all the festive lights. 
Become a Junior Ranger at Saguaro National Park! 
If you love the outdoors you'll want to check out the Junior Ranger program at Saguaro National Park. It's a great way to get outdoors and have some fun while also learning about the national parks and the beautiful place we get to call home! 
Winterhaven Festival of Lights
Winterhaven Festival of Lights is a prime example of a beautiful community doing some good during winter in Tucson. For 66 years the town has hosted the Winterhaven Festival of Lights. Every home is decorated with lights, and all they ask is that you bring a donation for the Community Food Bank. You can help fight hunger and enjoy an amazing light display!
Visit your local library! 
Do you want to keep your mind active during the winter months in Tucson? Never fear! The library is here to help! Check out the library for more than just books! They have all kinds of media, programs, and fun that you might be missing out on! 
See butterflies at the Tucson Botanical Gardens! 
Did you know that you can head to the Botanical Gardens to see the butterflies…and all of the other gorgeous trees, foliage, and flowers at the gardens? They also have fun events, and promotions that run throughout the year so make sure that you keep the botanical gardens on your radar for winter in Tucson! 
This post will help you book an amazing staycation right here in Tucson. You don't have to pack up and head out of state to get a nice relaxing vacation. Start the new year off right with a little getaway…without actually getting that far away! 
Tucson Apartments | Pet Friendly Tucson Apartments
Living in Tucson is awesome. The weather is amazing year round. You can enjoy winter in Tucson doing all the things you avoided during the summer because of the heat! Of course the views are to die for, and you have some excellent MCLife Communities to choose from in this area. 
The Place at Canyon Ridge and The Place at the Village of the Foothills are two that we're highlighting today. Our community members, features, amenities, and upgrades are amazing and you absolutely will not find another organization that loves pets as much as we do!
We love pets, we never have any breed or sizing restrictions which means you can bring the whole family, furry four legged members as well, without fear of losing your awesome new housing. Give us a call today to find out what else sets us apart from other Tucson apartments!
Looking for exciting Tucson living adventures?
If you are new to Tucson living or if you just need some inspiration to see what is out there these posts will help! Learn more about life in Tucson and see what you might be missing! Hopefully these posts will inspire you to love living in Tucson as much as we do!